Brot, ECHTES Brot!
Truth be told, I'm a bread snob. Why do I tell you that? I've found it best to embrace such truths like badges of honor as opposed to hiding them like unsightly wounds.
Every time we head down the bread isle at the supermarket, I get that "throw up in your mouth" feeling when I see all of the "sponge bread" that litters the shelves. You know what I'm talking about ... plain ol' white bread that's devoid of nutritional, aesthetic, or relative moral value.
My personal disdain for the likes of the Wonder Bread genre of mass-produced breads knows no end. Therefore, I usually abstain from said bread and either fork out substantial cash for decent bread at stores like
Central Market
or, when I'm feeling
really
adventurous, I take a stab at baking the breads I love.
Pictured below is the result of my second attempt at making Laugenbrötchen ... the famous "
lye roll
" (or pretzel roll) that's found throughout Germany. To my surprise, today's batch turned out really well and passed the kids' taste test.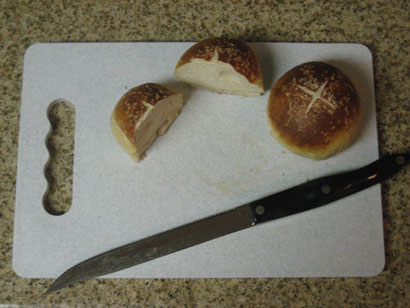 Seeing my children eat real bread makes the two and half hour preparation time worth it. Now I need to learn how to make the
Dampfnudel
! Down with Wonder Bread ... long live echtes Brot!
Labels: Bread